You Choose the Clouds. We'll Manage Them for You.
We support and manage the world's leading cloud platforms, saving you the pain and complexity of doing it yourself.
Find the best cloud solution for your business
As a cloud solution provider we let you decide which cloud based services you need for your business. Then we innovate to provide exactly what your business is crying out for. We provide a range of consulting services applying our expertise and experience to help you devise the best cloud computing solution for your business
Our method is simple and that's what makes it revolutionary. Each business needs a customisable managed IT service which is why we work closely with you to understand the current situation including operational, financial and security assessments. In step 2, we guide you through our cloud advisory process, including an initial IT requirement valuation, cloud solution design, implementation and everyday management.
Review of business plans and technology challenges within your business
Complete review of all current IT infrastructure and applications – Pain points, risks, what works and doesn't work
Analysis of cloud readiness
Written report and presentation of findings
Recommendations for cloud adoption strategy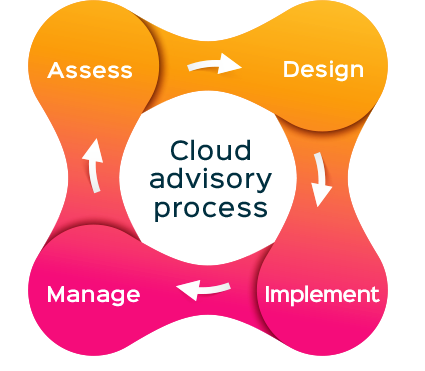 With so many different options in the market we understand that picking the ideal cloud based services can be a daunting task. Is your best solution on-premise IT, a private, hybrid or public cloud approach, Infrastructure as a Service, Software as a Service, Microsoft Office 365? This is where our cloud technology specialists step in to review your managed IT service needs and help you find the right option for your business.